Why Give the Exterior of Your Commercial Building A Pressure Wash?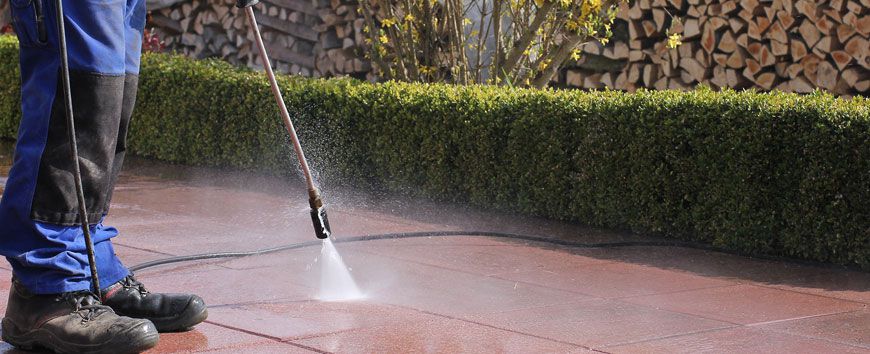 Customers notices your building's exterior before they ever get an opportunity to be impressed by your curated interior décor and your great customer service. If you let your commercial property accrue dust, rust, mold, or graffiti, it is going to make a negative first impression for sure. Commercial pressure washing employs high-powered jets to offer a strong water current that get rids of grime and dirt from many different kinds of surfaces.
Enjoy eco-friendly pressure washing in Madison:
Here at Madison Window Services, we offer pressure washing solution that is eco-friendly. Rather than employing chemicals & harsh cleaners, pressure washing employs water as its base. We do work with proprietary cleaning agents when required, but we also ensure that these agents won't cause any damage to your landscape or building.
In place of employing harsh chemicals to clean rust, we've a product that cleans your building safely & successfully. Our cleaning technicians are skilled at removing spray paint, bubble gum, mold, and more. When we know high pressure can damage the surface, we opt with soft washing method to avoid creating more maintenance issues.
Heavy-duty cleaning:
Mold, mildew and grease can be pretty tough to get rid of brick or concrete. We employ heavy-duty equipment & cleaning agents that are safe for the environment while still being effective. Our heavy-duty cleaning process assures that your business remains clean and look fantastic.
What are the top advantages of commercial pressure washing solutions?
Pressure washing keeps your business clean & fresh, and also lets your customers know that you care about your property. In fact, there're so many reasons to chose power washing service for your commercial building.
Lesser repairs: When dirt and grime accumulate on your walls, it causes disintegration. Mold & mildew damage your building's exterior over time. Periodic pressure washing prevents pollutants that cause structural damage, which entails that you've lesser repairs over time.

Fosters healthy environment: Cleaning away grime and dirt enhances the health and appearance of your building. Mold & mildew can trigger breathing issues, constraining the air quality. Grime and oil in your parking lot can be risky as people may slip & fall.
Contact Madison Window Services if you are looking for Pressure Washing in Madison. We use high-pressure water spray to remove loose paint, mold, grime, dust, mud, chewing gum and dirt from surfaces and objects such as buildings, vehicles and concrete surfaces. Call us on (608) 852-6222 to know more about our services and prices.