Surfaces That Deserve to Be Soft Washed

Pressure washing is no doubt one of the most popular forms of cleaning available for home's exterior. Though pressure washing is ideal for hard surfaces like hard metal or concrete, it is not perfect for other surfaces. This is where you would like to consider soft washing solutions. Soft washing uses low pressure water to clean delicate surfaces that high pressure water could damage. With more than a decade of experience in soft washing, Madison Window Services recommends the following surfaces to be soft washed:
Wood panel siding:
Generally used as an alternative to vinyl siding, wood panel siding is installed around the exterior of your house and presents it a pretty unique look. It comes in many colors & textures, but at its core it is a thin piece of plywood. Though wood panel siding is pretty durable and can endure all sorts of weather conditions, eventually it consists of a surface that is tend to get damaged when come in contact with high pressure water. Eventually, it is critical to pick the correct solution and the correct psi levels in order to experience the perfect wash every time.
Shingles:
Like siding, shingling safeguards your house. It safeguards your roof from UV & water damage, which assures your home's structure does not depreciate.
Mold, mildew, and other contaminants can grow on your shingles. Left unattended, they'll find their way into cracks in the limestone layer that makes up your shingles. This can cause damage from UV rays and allow shingles to crack or fall off.
Madison soft wash experts uses specialized cleaning solutions to break down mold and bacteria so you can feel self-assured you are getting a deep clean without causing any damage to your shingles.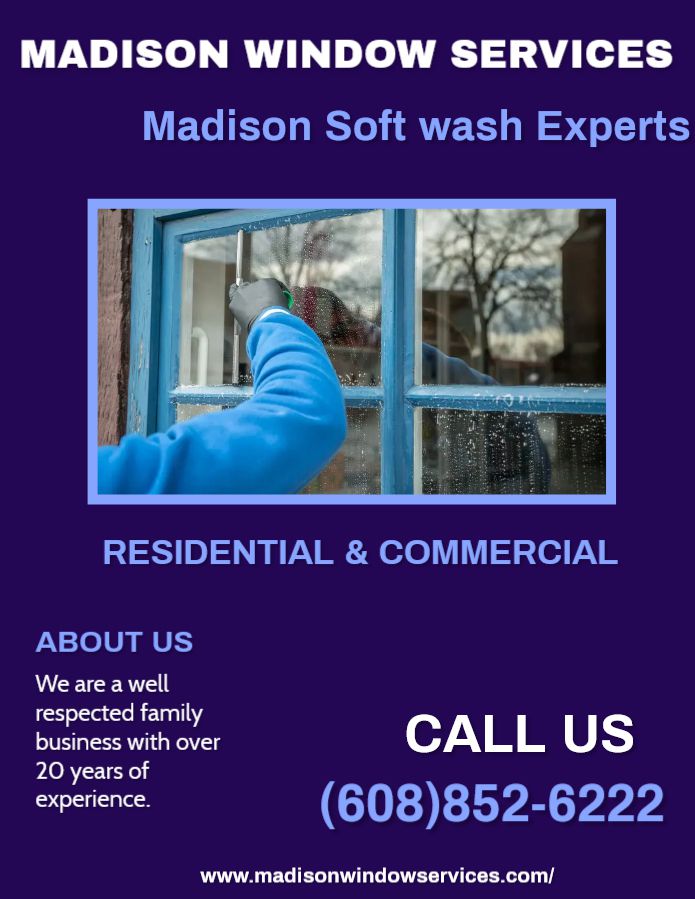 Windows and window screens:
Window screens are designed not to let bugs and other small particles into your home. High pressure washing can tear a window screen, so you need to be careful when cleaning around the entire frame. Soft washing is recommended for sparkling your windows and killing mold.
Choose the most reliable Madison soft washing company:
There're no shortages of companies that claims to softwash surfaces, but you need to work with a company that perform soft washing with proper equipment. Feel free to call Madison Window Services for the best soft washing results. Our Madison soft wash experts are ready to tackle soft washing project of any size. You can reach us at (608) 852 6222!